New Hampshire-based Compass Rose Private Investment Management joins the Beck Bode Family of Companies after evaluating 44 potential acquirers.
DEDHAM, MASSACHUSETTS (October 19, 2021) –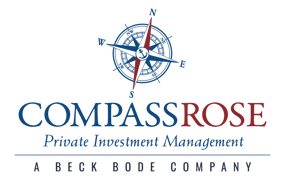 When it comes to succession planning, financial firms play a high-stakes game with longstanding client relationships; it's important to choose a successor that will be able to retain painstakingly-acquired clients and fulfill on the firm's promise of service to them.
Compass Rose Private Investment Management, a Registered Investment Advisor based in Portsmouth, New Hampshire selected Beck Bode, the Dedham, Massachusetts-based wealth management firm, as the firm to entrust with its clients after several years of careful search.
"We started out with 44 potential candidates, and settled on Beck Bode as the clear leader," said Founder and Senior Portfolio Manager, Jim O' Donoghue. "Our goal has always been to grow Compass Rose to be a multi-generational firm that will continue our vision well beyond our tenure," he added. "We believe that under the leadership of Ben Beck and Jim Bode, our clients will benefit from a commitment to disciplined investing and comprehensive financial planning."
"It is tremendously exciting to add Compass Rose to our growing portfolio of firms," said Beck Bode Managing Partner, James Bode. "We see their steadfast focus on a systematic financial plan and active, hands-on portfolio management to be in direct alignment with how we work."
Mature Registered Investment Advisers (RIAs) looking for a viable succession plan consider Beck Bode as a succession partner to leverage the firm's scalable service model and experienced team; others do it in preparation for retirement or to off-load the responsibility of day-to-day operations.
Beck Bode is engaged in a long-term effort to expand the reach of its investment model to greater audiences nationally. The firm's proven investment Strategy is a transparent method that clearly answers the questions of what stocks to buy, when to sell, and where to reinvest the proceeds.
Beck Bode is a deliberately different wealth management firm with a unique view on investing, business and life. Its core values are reflected in a dedication to discipline, the merits of financial and physical fitness, and a love for family. For more information, visit www.beckbode.com
###
Contact: Angel Williams, Beck Bode
Phone: (617)229-2224
Email: angel.williams@beckbode.com